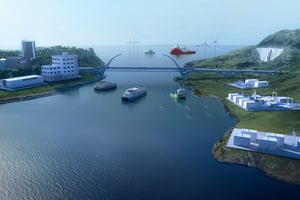 SECURE RELIABLE OPERATIONS
Trust that your marine propulsion, power generation and energy storage systems
are secure 24/7/365.
Whether you work as a CTO, COO or similar position
DO NOT LEAVE YOUR UPTIME AND RELIABILITY TO CHANCE
As a professional in the commercial marine, power generation or industrial segments, you know how crucial uptime and reliability are for your business. Having reliable equipment and resources help alleviate the concerns you can have, ensuring your confidence in secure operations and a business that runs smoothly.
What We Offer You
FROM DESIGN TO MAINTENANCE, WE'VE GOT YOU COVERED
As a systems integrator and provider of services, we take care of the complete delivery from design, production and commissioning to support and service.
Throughout the creation process and the entire lifecycle, you can count on us to take responsibility for your system. Your technical needs and requirements are the starting point for the solution we create. Our goal is to ensure your system runs smoothly and delivers maximum value over time.
What Can You Expect?
LEADING YOU SECURELY THROUGH THE ENTIRE PROCESS
When you first contact us, we will listen to your requirements and identify areas that need clarification.
Once we have a clear understanding of your goals, you will be presented with a comprehensive offer for a tailored soultion that meets your needs.
After you accept the offer, we will move forward with the project by creating a detailed design for your solution and start production to prepare for installation.
Installation & Commissioning
The functionality of all systems and equipment will be tested..We will also provide comprehensive training to your technical staff and deliver all agreed documentation.
After implementation, choose from standard or customized service agreements with 24/7 support from our experienced technicians in case of system failure or breakdown.
As a measure of proactive improvementWe can fine-tune your system for peak performance, assessing upgrades to improve efficiency and functionality and presenting suggestions.
LEADING PROVIDER OF PROPULSION, ENERGY STORAGE & POWER GENERATION
With focus on sustainability, quality and reliability, BOS Power provides propulsion, energy storage and power generation systems. We help customers in the Nordic region to secure mission critical operations for commercial marine, data centers, hospitals, energy companies, telecommunications and industry.